Find hundred's of parts for your Manfrotto Tripods, Heads, Monopods and Accessories...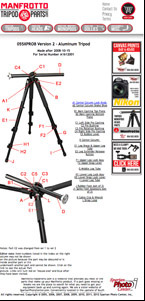 Supported models are shown by model number, with photographic diagrams illustrating the parts, like the screen shots shown. Individual parts are shown by clicking on the parts descriptions. Links are black, then highlight to red upon mouseover and turn blue when clicked. Listings that are not active are not stock items and cannot be ordered.

Models that have a head incorporated into the model will have the head parts listed. Often these heads are slightly different from heads alone, in so much as they are designed to be made onto the tripod or monopod, and not work as a separate part.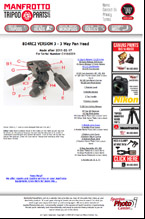 If you are having problems with your Manfrotto or would rather not repair it your self you can send it to us for repair. We only repair those tripods, heads and monopods that we have listed on our site. Click here for the repairs page.

If you are into Do It Yourself these links wil be very helpful: Click here for spare knobs and parts listed without model numbers. We have some videos posted on our repairs page, and are adding more every few weeks. Click here for repairs.



We are not affiliated with Manfrotto Distribution, Manfrotto or their parent company Vitec. This website is owned and operated by a small indenendant camera store, located in Spartanburg South Carolina.