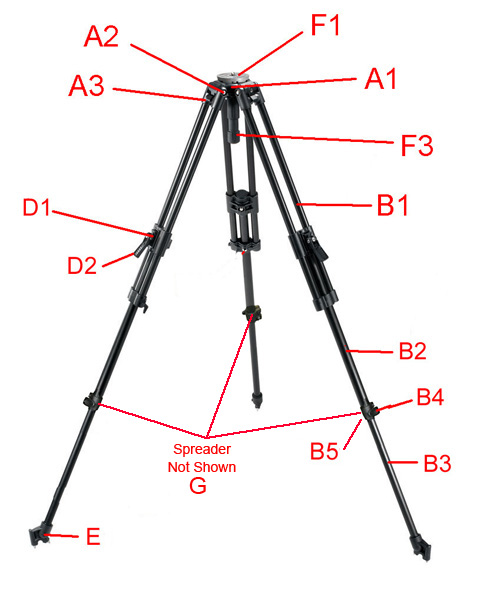 A1 USED Main Casting
A2 USED Leg Pivot & Screw Caps
A3 USED Leg Release
A4 Single Screw Cap
B1 Upper Leg Tube
B2 Middle Leg Tube
B3 Bottom Leg Tube
B4 Leg Lock Snap Lever
B5 Spreader Link
B6 USED Complete Leg Assy
includes parts B1, B2, B3
C1 Cable Clip
C2 Cable Clip and Wrench
D1 USED Leb Clamp Assembly
D2 Upper Leg Lock Lever
D3 Upper Leg Lock Shoe
E1 Rubber Foot Cover
E2 USED Rubber Padded Foot
E3 Rubber Padded Feet, set of 3
F1 Ball Assembly
F2 Ball Only (not a stock item)
C Tightening Handle Assy
Click Here for parts for 520Ball
G 537SPRB Spreader Assembly
<
Editor note: Versions 3 and 4 are different in that B3
assmebly parts are NOT interchangeable between
versions. All other parts are the same. the only way to
discern versions is to use the Sanp Lever B4 to
visually identify them.

Editor note: Click on the link to see the actual part picture.