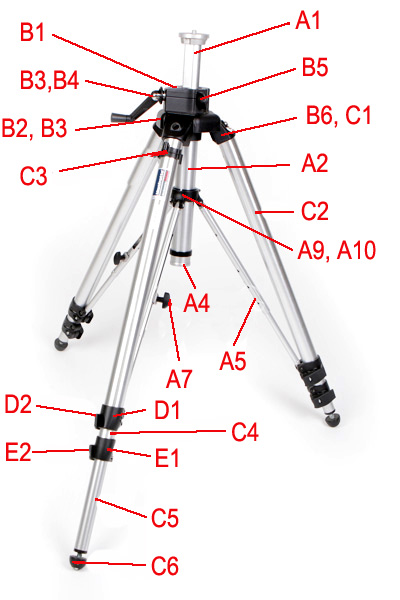 A1 Silver Center Column
A2 Center Column Tubing(not a stock item)
A3 Center Column Tubing Bezel(not a stock item)
A4 Center Column Plug
A4 USED Center Column Plug
A5 Spider Assy(not a stock item)
A6 Lower Brace Tube(not a stock item)
A7 Brace Lock Knob
A8 Upper Brace Tube (not a stock item)
A9 Spider Junction (not a stock item)
A10 Spider Locking Knob (not a stock item)
B1 Main Casting Top Plate
B2 Main Casting Bottom Plate(not a stock item)
B3 Elevation Gear
B4 Elevation Crank
B5 Lock Knob (not a stock item)
B6 USED Leg Brace Mount
B7 Bubble Level
C1 Leg Brace
C2 Upper Leg Tube
(not a stock item)
C3 Upper Leg Clip & Wrench
(not a stock item)
C4 Middle Leg Tube
(not a stock item)
C5 Lower Leg Tube & Foot Assembly
(not a stock item)
C6 Rubber Spike Foot
D1 Upper Leg Lock
(original part is no longer available)
D2 Original Upper Lock Snap Lever
D1 Replacement Upper Leg Lock
D2 Replacement Upper Leg Lock Snap Lever
E1 Lower Leg Lock
E2 Lower Leg Lock Snap Lever
Editor note:
The Leg locks use a TORX T25 size driver. These parts are
the same as the 475, except black instead of silver. Versions 2 differ from
versions 3 in that the leg lok parts E1 and E2 are different and not
interchangeable between versions. Click on the link to see the actual part picture.