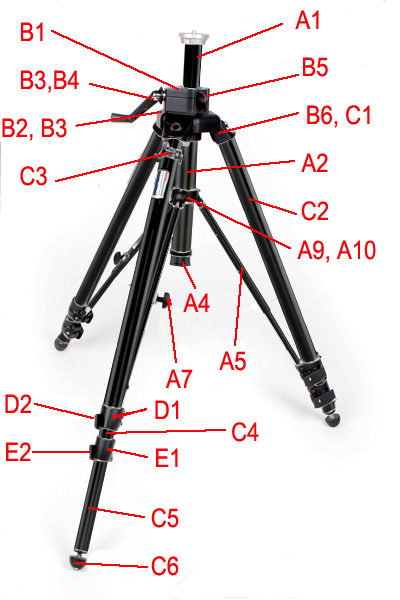 A1 Black Center Column
A2 Center Column Tubing(not a stock item)
A3 Center Column Tubing Plug(not a stock item)
A4 Center Column Plug
A5 Spider Assy(not a stock item)
A6 Lower Brace Tube(not a stock item)
A7 Brace Lock Knob
A8 Upper Brace Tube (not a stock item)
A9 Spider Junction (not a stock item)
A10 Spider Locking Knob (not a stock item)
B1 Main Casting Top Plate
B2 Main Casting Bottem Plate(not a stock item)
B4 Bubble Level
B3 Crank Housing
B4 Crank
B5 Lock Knob(not a stock item)
B6 USED Leg Brase Mount
C1 Leg Brace
C2 Upper Leg(not a stock item)
C3 Upper Leg Clip
C4 Middle Leg(not a stock item)
C5 Lower Leg(not a stock item)
C6 Rubber foot
D1 Upper Leg Lock
D2 Upper Leg Lock Snap Lever
E1 Lower Leg Lock
E2 Lower Leg Lock Snap Lever
Editor note: All parts are interchangeable between versions 3 & 4
EXCEPT the leg locks and snap levers. Those on version 3 use
different snap levers than on version 4. You can completely replace
the leg lock assembly on version 4 with the version 3 leg locks. The
snap lock levers are NOT interchangeable. Click on the link to see the actual part picture.