MT190GOA4TB - Black Aluminum Tripod
Made after 2015-02-09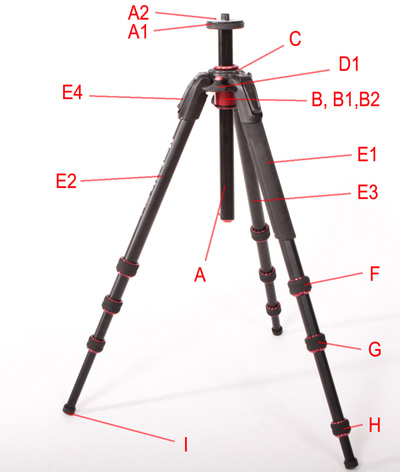 BUY MT190GOA4TB CompleteTripod


A Center Column Assy
A1 Rubber Bumper
A2 Grub Screw

B PRO Center Column Pivot Assy
B1 Column Pivot Ring
B2 Friction Ring

C Main Casting Top Plate

D Main Casting Bottom Plate
D1 Center Column Lock Knob
D2 Rubber Cap
D3 Screw for Accessory Port

E4 Leg Extender Release Button

E1 Leg Assy & Brace With Rubber Grip
E2 Leg Assy & Brace With Endgravings
E3 Leg Assy & Brace Only (no rubber grip)

F Upper Leg Sleeves
G Middle Leg Sleeves
H Lower Leg Sleeves

Leg Tightening Collars Are Not Available Individually

I Rubber Feet (set of 3)


Editor note: Item numbers listed in the index on the right
column may not be shown on the picture because the part may
be obscured or is inside in underneath another part and cannot
be shown. Click on the link to see the actual Part picture. Links
will turn red on "mouse-over' and blue after they have been
visited.