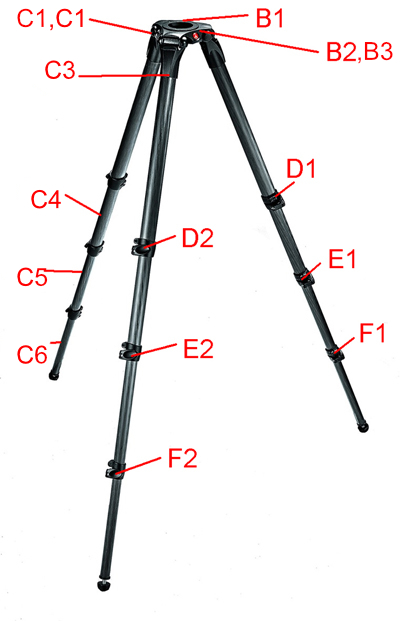 A Ball Control/Platform (not a stock item)
B1 Ball Adapter (75mm to 100mm)
B2 Main Casting (not a stock item)
C1 Leg Top Cap (not a stock item)
C2 Upper Leg & Brace (not a stock item)
C3 Middle Leg Tube (not a stock item)
C4 Lower Leg Tube (not a stock item)
C5 Tube with Foot (not a stock item)
D1 Leg Clamp (not a stock item)
D2 Leg Lock Lever
E1 Leg Clamp (not a stock item)
E2 Leg Lock Lever
F1 Leg Clamp
F2 Leg Lock Lever
G Inner Tube Bushings (set of 3)
G2 Outer Leg Tube Bushings (set of 3)
Editor note:
Only one version of this tripod is know. Parts G1 & G2 (not shown here) are required if you are purchasing new leg tubes or if the old leg tubes are wobbly.
Item numbers listed in the index on the right column may not
be shown on the picture because the part may be obscured or is inside in
underneath another part and cannot be shown. Click on the link to see the
actual Part picture.